We work by your side to transform data into good decisions with PowerBI
Your Microsoft Dynamics Partner specializing in Power BI
There is no point in having a lot of information and not knowing exactly what to do with it. Power BI is a platform that brings data to life.
Consists of analysis software that allows you not just to keep relevant business information in the cloud, but also to generate interactive reports and a variety of reports. Everything is presented in a very practical and visual way, with assertive conclusions for timely decision-making.
It can analyze large volume of data and segment it, as well as offer the possibility of customizing it according to convenience, so that it can be presented graphically. A highly effective proposal based on the innovative concept of business intelligence management.
Request a no obligation consultation today.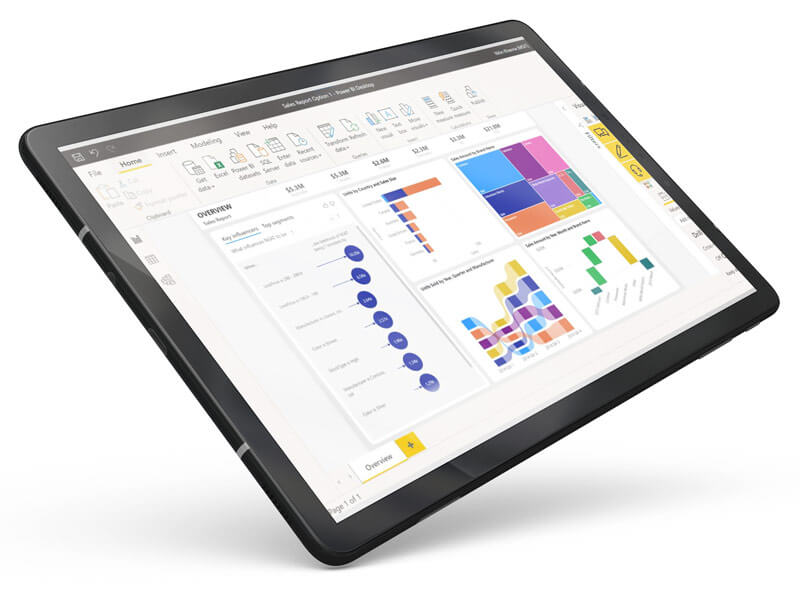 Apuesta por los beneficios del Power BI integrado en
tu Business Central
A proven analysis solution:
Ranked as one of the most trusted analytics solutions in the industry.
Accurate analysis:
Power BI is responsible for accurately assessing information. Take advantage of this resource to get ahead of problems.
Strategic data blending:
Power BI es compatible con Dynamics 365 Business Central.
Immediate access:
The data is available in the cloud and you can access it whenever you need it.
More than just numbers:
Power BI platform sorts the information and displays it in a visual form for easy understanding and sharing with work teams.
KPI:
You will learn about key performance indicators that will be presented in interactive dashboards according to the specific variables you select.
Power BI for every department in the company
This tool has been specifically designed to comprehensively analyse different areas within the business structure.
Power BI Allows tracking the effectiveness of sales activities for a product or service. With the possibility of generating future projections.
Indicators on the efficiency of daily operations, following table provides a summary of the data, order flow and comparisons with the inventory.
Power BI helps you to check profit and loss according to the selected frequency, daily, weekly, quarterly or yearly.
Comparing sales processesbrand reach, number of potential customers registered, return on investment and many more.
With Power BI you will be able to perform analysis of the main indicators measurement indicators and performance of a certain tactic or strategy that has been applied in a company.
Si quieres conocer más detalles sobre Power BI y cómo lo podemos integrar en tus procesos, CONTACT US NOW and discover the difference